Retirement Home Facilities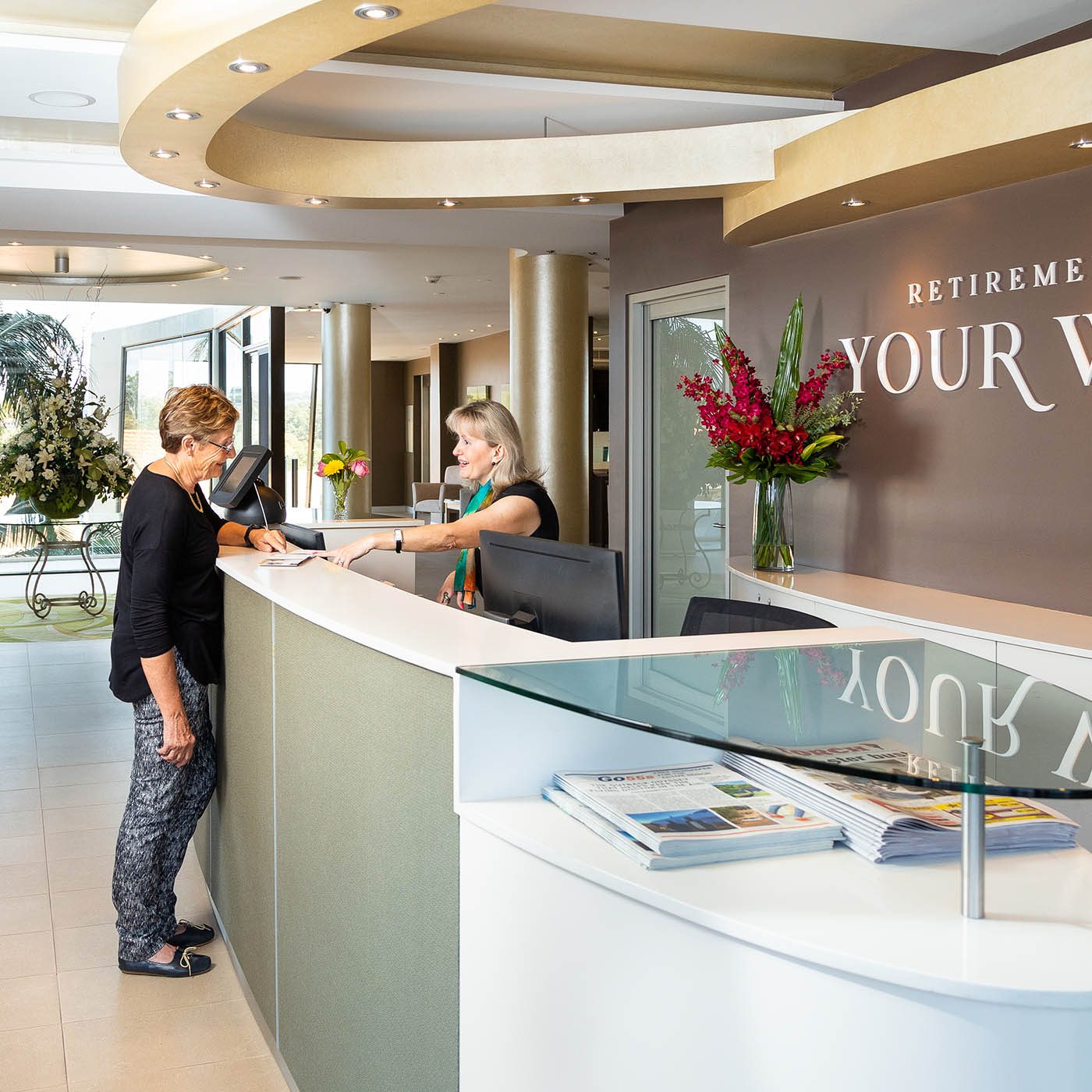 Your Lifestyle
What is Retirement Your Way's way of life? In a word, carefree.
Retirement is your time, the "one day" years, where you can start working on that bucket list.
Leave the other stuff to us.
Our job is to create the environments and add the services, facilities and thoughtful extras that give you freedom to choose what you do, when you do it and how you do it.

We ensure you have everything in place to maintain your health and well-being, activities and facilities to keep you connected to the village community and beyond, while protecting and respecting your independence.
Our Services
When you see the array of facilities and services at your disposal, you'll agree with our residents when they say, "we only wished we moved in sooner". It's time to treat yourself. You've worked hard and you deserve it.
Our Beauty Point Concierge is always available to assist. Whether it's helping you make a booking, arranging deliveries, transport or dropping off dry cleaning. If you're away, we ensure your home is secure and collect your mail.

Take advantage of our free resort bus. It covers different locations on different week days with plenty of time at major shopping centres and the Sydney CBD.
Housekeeping and laundry can be a thing of the past. We can do as much or as little as you need, whether it's the washing and ironing, or hard jobs like cleaning the floor and bathrooms.
Staff are on-site 24 hours a day, 365 days a year. So, you can visit friends and family knowing your home is safe and secure. The sense of community also means neighbours look out for each other.

All your home and garden maintenance, all those little handy jobs you need taking care of every now and then. We do it all for you. As we like to say, 'less chore-time and more your time.'

HomeCare Your Way gives you the freedom to choose the personal care and domestic services you need, when you need them. With flexible, tailored assistance, you won't need to leave your Beauty Point home.
Facilities
Within our Retirement Your Way communities, you will have a wide variety of facilities and services at your disposal, to enjoy when and where you want.
Frequently Asked Questions
A retirement village is a community of homes and facilities designed for over 55s who want to continue to live independently in their own home without the added stress of maintenance, and whilst enjoying the benefits of security, comfort and socialisation.
Retirement villages are designed for anybody over 55 years old that no longer work a full-time job. This means that you do not need to be completely retired - you can continue working part time if you wish and still enjoy the benefits and senior living lifestyle of Retirement Your Way communities.
Australian retirement village operators can either be privately owned, not-for-profit or publicly listed companies. Each state is governed by its own Retirement Villages Act for the operation of villages within that state.
Retirement Your Way is family owned and run, proudly bringing two retirement villages to the St Georges area in Sydney with Beauty Point Retirement Resort and Oasis Peakhurst Retirement Apartments.
Retirement Your Way constantly strives to foster respect, dignity and friendships amongst the residents and team.
The Retirement Villages Act (1999) is a set of legal rules and regulations created to protect the rights of all residents in a retirement village. The legislation is state-based and ensures that all operators are conducting business within a rigid framework. Retirement Your Way will always adhere to the highest of standards and strive to go above and beyond what is legally expected.
There are many reasons to choose retirement living, such as:
Downsizing to a smaller and more manageable home.
The benefit of home and garden maintenance taken care of.
Living in a secure community of like-minded individuals.
The ease of socialising in shared community areas.
Having retirement care facilities and services at the palm of your hand.
Ultimately, any reason you choose to move into a retirement village will allow you to enjoy more time doing the things that matter most.
Retirement Your Way offers a multitude of the highest quality facilities and support at both Beauty Point Retirement Resort and Oasis Peakhurst Retirement Apartments. We believe there is no other senior living community like ours in Sydney.
Retirement villages are designed for people over 55 and offer independent living and flexibility. They are ideal for those who require minimal assistance. Residents live in their own home whilst enjoying the benefits of maintenance and a shared lifestyle with those of similar age and interest.
In contrast, aged care facilities are primarily designed to provide a higher level of care and support, with residents requiring more services and support in their day-to-day life. Aged care is ideal for those who can no longer live independently.
Yes, visitors are always welcome at our villages. We do ask that you notify the Village Manager if family and friends are staying in your home overnight or visiting for a short period of time.
In the unlikely event that you decide the village is not suitable for you, you are able to leave within a cooling-off period of 90 days from move in, giving you the peace of mind to take the step to retirement living.
You lock up your home and take off and have a wonderful time. We will look after everything else. It is always a good idea to let us know you are off on an adventure.
That's our job – not yours. We have a gardening team that maintains the grounds and communal areas of our retirement villages. We also have a team of maintenance staff who can help with small jobs around your home.
Yes, of course. We run a general site meeting every quarter. We also have an active Resident's Committee in the village. We ask for their advice and guidance when we are planning for the future. You can also make an appointment to see the Village Manager who is always available to answer your questions.